Interests

I regularly go line dancing and have choreographed a few dances.

Since I bought a house with a big garden plot, I have become a gardener.

I was faculty advisor for the VU Hockey Club played intramural floor hockey for the Chiefs and am a big fan of the Gustavus Hockey Team. I have never actually played ice hockey but have vowed to do so someday.

I have been exploring the bike trails of Northwest Indiana as time and weather permit.

I was a member of the Trombone Choir and the Brass Choir at Gustavus.

When I lived in Boulder, I played Trombone in the Boulder Concert Band.

I was a member of the CU Bands including the CU Basketball Band and the C.U. Golden Buffalo Marching Band. The highlight of my marching band career was a trip to the Aloha Bowl in Hawaii.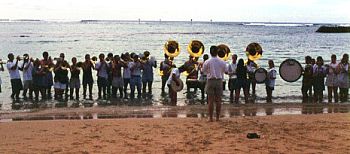 I was a member of the Pride of Arizona Marching Band while at the University of Arizona.

I'm from Lakewood, Colorado where I attended Green Mountain High School.
Recent Travels

In February 2012 I went to New York City for the AAG Meeting where I also saw William Shatner and Brad Paisly perform together on state.

In August 2011 I went to Portland, OR for the NCGE meeting.

In April 2011 I went to Seattle, WA for the AAG meeting.

In April 2010 I went to Washington D.C. for the AAG meeting.

In March 2010 I traveled to Nashville with two students to do research on the geography of country music at the Country Music Hall of Fame.

In June of 2009, 2010, and 2011 I traveled to Nashville for CMA Fest.

In September and October of 2009 I went to Queensland Australia and traveled from Brisbane to Cairns stopping at Fraser Island and the Whitsundays along the way. I also snorkeled on the Great Barrier Reef and visited the Daintree National Park.

In March 2008 I went to Boston for the AAG meeting.

In July 2007 I went camping North of Fort Collins, Colorado.

In June 2007 I had an opportunity to spend a day in New Orleans to see the recovery efforts (and lack of recovery) first hand.

In April 2007 I went to San Francisco for the AAG meeting and spent a day walking around one of my favorite cities.

In May and June of 2006 I traveled to China with faculty from VU. We visited Tibet, Xinjiang, and Hangzhou among other places.

In June 2004 I traveled to Boulder Colorado for the Geography Faculty Development Alliance's Early Career Faculty Workshop. See the GEO/MET Teaching Resource Center for some valuable teaching resources I found as a result of participating in this workshop.

In May and June 2004 I traveled to Japan and China with a group of faculty from VU.

In June 2003 I traveled to Cambridge, London, and Cardiff.

I have returned to Minnesota several times since I moved to Indiana and regularly go home to Colorado for the holidays.

Here are some pictures from my summer 2002 trip to Northern Minnesota.